Numnuts Just Became More Durable and Even More Effective
Since our launch three years ago, we've been learning about how Numnuts performs over time. We're always looking for ways in which we can make it stronger and more effective for both the handler and the lamb. We're pleased to report that we have just improved the fluid junction – the clear plastic part that holds the NumOcaine bottle.
With larger producers now switching to our product, Numnuts has been seeing action with greater numbers of lambs than ever before. We've needed to be sure of its durability. From now on, all new Numnuts devices have a fluid junction made from polycarbonate, which makes them more hard-wearing and longer lasting. The device will last the full season, no matter how many thousands of lambs you're marking.
We still strongly recommend that the fluid junction is replaced annually. Just like veterinary equipment, it must be new, sterile, and hygienic at the start of each season.
If you have an older version of Numnuts (see below), we'll happily replace this part so you can benefit from the latest improvements.
Version 1
In the original Numnuts device, the fluid junction was designed to fit a lightweight plastic bottle. To keep to the APVMA standards, we had to change to a glass bottle for the NumOcaine.

Some of our customers found that the bottle's extra weight, combined with the knocks and bangs that happen during regular use, led to the appearance of cracks and leakages in the fluid junction. More work was needed!
Version 2
We next made the fluid junction stronger, to allow for the weight of the glass bottle. It also held the bottle more securely and safely.
As more farmers came on board with Numnuts, the device received heavier use from larger producers and contractors. They found that marking far higher numbers of lambs led to extra strain on the fluid junction - far more than we'd seen before.

Add in the extra stress from regular use, such as accidentally overtightening the bottle, and hairline cracks started to appear.

This led to leakage of NumOcaine, which was both wasteful and unsafe. Further development work was needed...
Version 3
Now, in 2021, we have fully upgraded the fluid junction. To effectively meet the demands of larger producers and contractors, it is now made of polycarbonate. This material is far more durable and can successfully withstand high volume usage.

The new fluid junctions still fit onto the original base unit and can be identified by a small dot found on the front fin.
Future Improvements
As Numnuts goes forward, we will continue to improve our product, so that best practice in lamb marking is always available on your property, no matter how many lambs you are marking.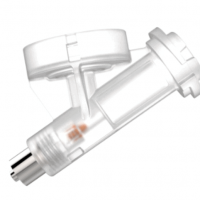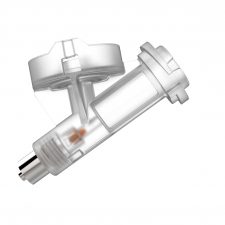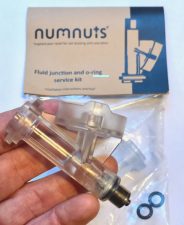 Feedback, Refine and Improve - The Design Journey
With an innovative new product, feedback from customers helps it to improve. 
This video gives an insight into the Fluid Junction component and how we've listened to farmers feedback and refined it over 3 seasons.
As an insight, the hardened steel mould tool to make this one component costs tens of thousands of dollars! When we change a component, the research time and costs involved in production engineering and mould tool refinements soon scale up… all for a wee annual replaceable part that costs Numnuts users just $20 😉
We want to keep you up and running!
If you're having an issue with your Numnuts equipment please feel free to contact us. We are happy to help and will give advice on repairing the part until we can get a replacement to you.
Phone us on: 1300 64 64 13 
Email us at: [email protected]
When emailing us, please supply photos or videos of the problem, to help us get to the bottom of the issue quickly.
We also have troubleshooting and 'how to' resources on our website: www.numnuts.store/support
As Numnuts goes forward, we will continue to improve our product, so that best practice in lamb marking is always available on your property, no matter how many lambs you are marking.