NumOcaine is now administered in every Australian State and Territory, as New Zealand also comes aboard
Where has the year gone? We're already well into November and that can only mean one thing: it's time for an annual review. 
In another strange year, our ability to travel to shows and exhibitions was thwarted. That's why we're very pleased to say that we have now sold over 2.2 million doses of NumOcaine® in Australia over the past 30 months. But what does this mean in real terms?
Some exciting statistics!
First, let's look at the size of the flock in Australia. Figures from Livestock SA show that there are 63.5 million sheep in Australia. Here's how those animals are distributed across the country.
(Now, we all knew that there weren't too many sheep in the Northern Territory, but who knew the percentage is quite that small?)
Following on from this, recent figures from MLA and AWI Wool and Sheepmeat Survey Reports show that around 32.2 million lambs are marked every year.
These are substantial figures, so let's now take a look at the percentages, which reveal more about  the inroads we have made so far.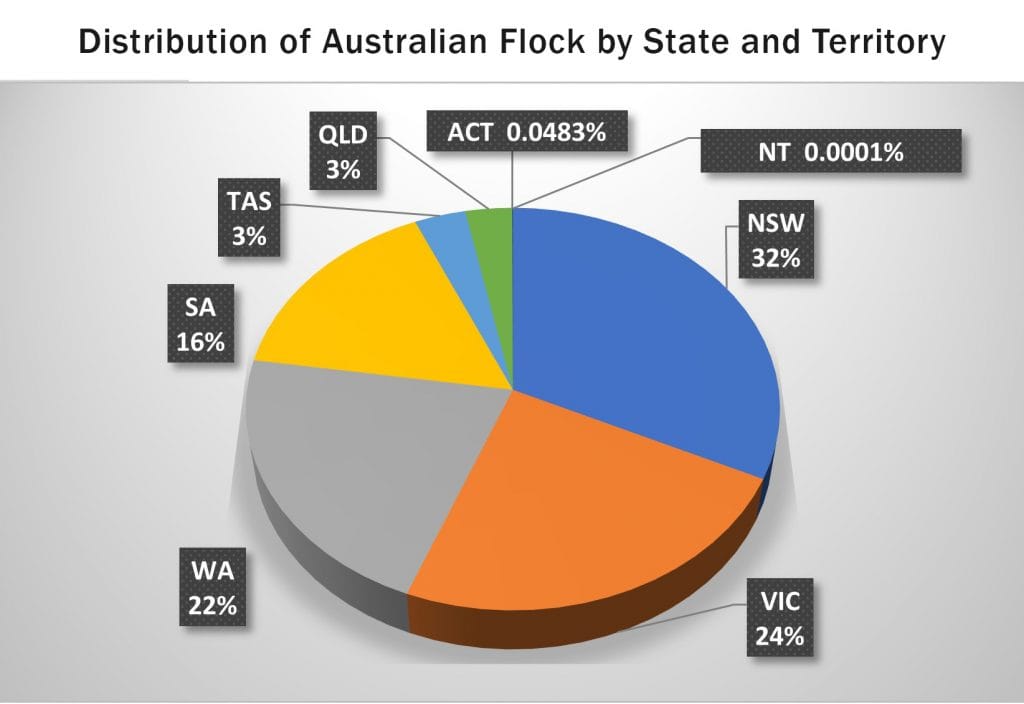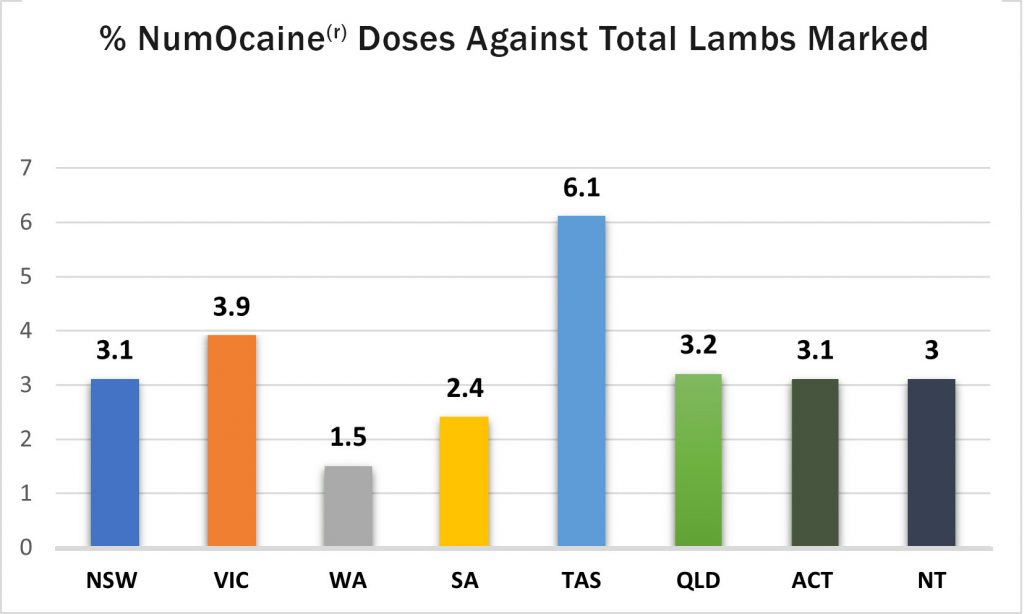 It's no surprise to us that the areas where we've previously been able to get out and about, showing vets and producers how the device works, are doing well. That's one reason we can't wait to get out and talk to lamb producers in person again.
A quick note about these figures. It's hard to be precise about exactly how many lambs receive NumOcaine®, because producers use Numnuts in more than one way:
For both castration and tail docking, in which case within the flock, male lambs receive two doses and females receive one dose.
For castration only, in which case only male lambs in the flock receive a dose.
The figures show that we have delivered pain relief to at least 2% of the Australian lambs marked this season during 2021.  It could be that a higher % of male lambs have received NumOcaine for castration only (no tail docking). We are unable to tell how many graziers use best practice applying NumOcaine for both procedures.
As the Numnuts®  company has only been selling  for 2.5 years, of which nearly 2 years have been spent in lockdown. We are comfortable with the way things are going, yet excited to be building relationships with more growers next year.
As Australia opens up in 2022, we plan to once more attend events and visit more farms and clinics. We firmly believe that adoption will increase. Four out of 10 of this year's sales went to new customers, which shows that usage of NumOcaine® uptake is on the rise.
Ultimately, we would like to see every lamb in the country receiving some form of pain relief during marking.
New Zealand joins the movement
Numnuts is a world first, being a cross between an agricultural and veterinary device that administers anaesthetic and an elastrator ring in the same process. It is now available to the New Zealand market through leading supplier, Agilis Vet.
A quick recap on Numnuts® and NumOcaine®
Numnuts® was invented as a measure to address the painful husbandry procedures of tail docking and castration of lambs. It's a dual-action device that injects pain relief – NumOcaine® (containing 2% lidocaine) – below the skin, before a rubber ring is applied. Before launch, it was heavily researched with support from CSIRO Agriculture, and backing from its inception by the AWI, MLA, and the Moredun Research Institute among others.   
At time of writing 2021/22, Numnuts is only available in Australia and New Zealand.
The regulations surrounding the distribution of local anaesthetics makes Numnuts a complex product to roll out in other countries. Despite a huge effort by the Numnuts UK, even winning the support of retail giant Tesco, regulation and legislation still prevents us from making the product available to British farmers and lambs. More on Numnuts in the UK here.