Numnuts receives a major award from the UK's supermarket giant, Tesco.
In crowning Numnuts with the Agri T-Jam award at the World
Agri-Tech Summit 2020 pitch day, ahead of 140 competitors from 42 countries, Tesco flagged its support for pain relief in lamb castration and tail docking.
This is an enormous win for Senesino, the Scottish animal
agtech start-up responsible for Numnuts and NumOcaine, the pain relief medication injected by the device.
This has helped to establish our device as a significant contributor to ethical farming in the food supply chain. Remarkably, in Australia, over 1 million Numocaine doses have now been sold.
What does this mean for Numnuts down under?
Senesino found Robin Smith described the award as displaying
a substantial commitment by a major UK retailer to improvements in farm animal welfare. Robin anticipates being able to introduce Numnuts to farmers, as well as even more farmers in Australia and New Zealand.
"Tesco has a strongly stated animal welfare policy which is pursued throughout its business and supply chain. The company's animal welfare policy is clearly a reflection of consumer demands for ethical food."
"By supporting products such as Numnuts, Tesco encourages its adoption across their network of supplying farms, in the UK and overseas, to rapidly improve welfare for thousands of animals."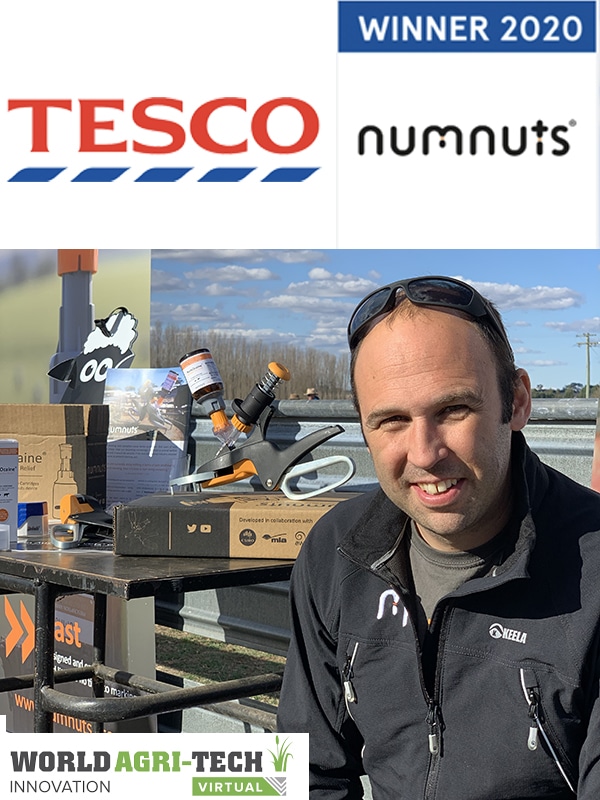 Tesco is one of the world's top 10 supermarkets, with an annual turnover of A$115 billion and 27.5% of the UK market share.
 Tesco's Head of Agriculture, Natalie Smith, said:
"Senesino (Numnuts) was chosen as the company that would greatly benefit from further support from Tesco and its supplier partners to trial and scale up a simple piece of technology that has the potential to improve the welfare of thousands of animals within our supply chain."
Watch the Numnuts 4-minute Agri Tech yourself.