Making it easier to buy NumOcaine
Since our launch in 2019, widening access to NumOcaine is the change most requested by our customers (and would-be customers) wishing to increase adoption of pain relief to enhance lamb welfare. 
Here's an update on the progress of our latest effort to widen access to NumOcaine local anaesthetic by making it available to buy directly from Numnuts online and at local rural produce retailers, as well as from vet practices. 
The Lengthy Process of Rescheduling a Livestock Drug
With the support of the peak bodies WoolProducers, AWEX, the National Farmers Federation, Australian Wool Innovation, as well as wool, sheep and cattle producers and 90 other individuals, we have been undergoing the arduous process of changing the categorisation of NumOcaine, so it can be sold through rural stores, direct online as well as in Vet practices. 
This means that Senesino Ltd (the small start-up company behind Numnuts) is trying to change the 'schedule' of the drug, for the highly specific use of lamb marking only, and restricted to our system. It may surprise you to learn that changing the scheduling of a production animal drug can be more demanding than for a human drug. This is because it's a 2-stage administrative process: 
The new schedule must first receive approval by human health authorities, called the Therapeutic Goods Association (TGA).

The specific new label claim must also be approved by the Australian Pesticides and Veterinary Medicines Authority (AVPMA). 
Only after both of these approvals have been granted can the drug be sold under its new schedule – in this case, Schedule 5 (S5).  
We are currently 2 years into this process, which is likely to take 3 years to complete. 
Rescheduling a Livestock Drug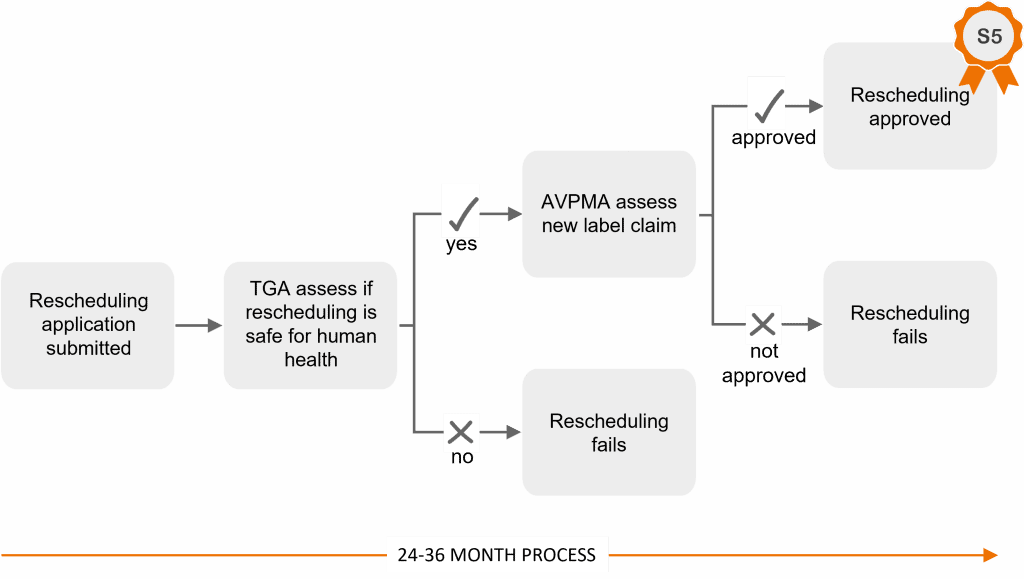 NumOcaine Success at the First Big Hurdle - TGA
Senesino Ltd has dedicated a great deal of its limited financial resources and time to delivering this outcome for Australian farmers. The good news (there is some) is that in October 2021, after a 12-month process that included two public consultations, the TGA approved NumOcaine (technical name 2% Lidocaine) as an S5 drug for use during marking with a Numnuts device.
Here's how NumOcaine has been defined:
"In injectable preparations containing 2 per cent or less of lidocaine when packaged in a container with a tamper-resistant cartridge for use in conjunction with a rubber ring applicator for tail docking and castration of lambs; or castration of calves." 
The restrictions placed in this statement and how it translates to the label claim on the NumOcaine bottle are legally binding,  this means anyone using NumOcaine for any purpose other than that stated above, would be illegal.
The submission now sits with the Australian Pesticides and Veterinary Medicine Authority (APVMA), which has until July 2022 to approve the NumOcaine S5 new label claim. 
Once the new label is approved, we then need to start the process of printing and manufacturing NumOcaine with its new S5 label.  In an unrestricted environment, printing up new labels and adding or replacing them on the bottles would be straightforward.  However, in a Good Manufacturing Practice controlled environment, every detail down to the labels' glue makes this process challenging.  As each batch is controlled with expiry and batch numbers, labelling can only be carried out under audited conditions. It is expensive to manually over-label the tens of thousands of bottles, as once our tamper-resistant cartridge is added, the bottles no longer fit through the automatic labelling machine. As such, each bottle must be unpacked, relabelled, and then repacked in a GMP facility – by hand. 
This example of the labels is just one of many factors that mean even if every element goes in the right direction (think COVID), NumOcaine will not be sold over-the-counter direct to sheep and wool producers in spring/ summer 2022.  Q4 2022 is a possibility, yet  2023 is more likely.
Unfortunately, all of the work described above could be undone. Despite the lengthy consultation, there's still one opposer to this change – the Australian Veterinary Association (AVA), who wrote to us to inform us they have submitted a REVERSAL application so that NumOcaine can be brought back under veterinary control. 
Sheep producers might remember a similar situation when the topical pain relief Tri-Solfen was rescheduled to S5 in 2014-15. This created controversy at the time. However, since then, the uptake of Tri-Solfen has increased 3-fold, largely due to the availability of over-the-counter sales.
The AVA's campaign has culminated in a recent counter-submission to the TGA. This is an attempt to overturn the successful rescheduling of NumOcaine to S5 for over-counter sale (see the illustration below).
The AVA are concerned that our product will fall into the wrong hands, ie. those of misusers who will break through the tamper-resistant system on NumOcaine bottles to misuse the drug. They state that:
Misuse of lidocaine poses public health risks, including as an unregulated anaesthetic by illegal "body modifiers", in the dilution ("cutting") of cocaine by illicit drug manufacturers, and as a suicide agent.
There is also concern regarding animal welfare, with the prospect of lidocaine being used as a masking agent in performance animals or to perform painful acts of veterinary science, with poor animal welfare outcomes.

 
What is Numnuts (Senesino's) Position

Our company is dedicated to improving animal welfare – indeed more than half our board are veterinarians – and so it saddens us that the AVA has taken such a strong opposing position. While we respect the AVA for highlighting  concerns about the potential criminal misses and abuse of our product, we are also aware that the authorities must balance the chance of these criminal abuses occurring against the potential benefit that widening access to NumOcaine achieves for millions of lambs.
We believe that the design and very specific use pattern of the Numnuts system, along with the stewardship associated with selling through a restricted number of channels sufficiently mitigates the risk of the proposed abuses happening. 
We support and hope all sheep farmers will continue to support rural Vets; we want you to continue purchasing NumOcaine from them. The differing of opinion we have is with policy makers at the AVA, not the proactive Vets who have worked hard to raise awareness of Numnuts and often against difficult odds, continue to deliver good animal welfare for graziers across Australia.
The Current Position - Feburary 2022
The public consultation stage for the AVA's counter-submission to reverse the S5 categorisation has now closed. We are now awaiting the TGA's interim decision, which is due in March. We will of course provide an update once we are informed of this.
The TGA are primarily interested in human safety. Our argument is that NumOcaine, with its unique tamper-resistant bottle collars and dispensing system, has been rendered safe and easy to use – and hard to abuse. The TGA will be interested to hear your thoughts on the improved animal welfare that is achieved by increasing the ease of access to NumOcaine nationwide.
Under the current system (in which NumOcaine is vet prescribed, farmer applied) all the proposed risks that the AVA is putting forward to human health (misuse by body modifiers, drug dealers cutting cocaine, suicide) are already possible – vet prescription does not prevent 'bad actors' doing bad things.
Since its launch in 2019, and with 2.2 million doses administered, no adverse problems or issues as described by the AVA have occurred, as farmers have been diligent and respectful of the drug.
There are (arguably) a lot more dangerous products, chemicals and poisons that farmers have access to that are available for over the counter sale (1080 poison, Johne's Vaccine, etc.)
NumOcaine has a 2% lidocaine concentration. Tri-Solfen, which is already S5 and available over-the-counter in 20L containers, contains lidocaine at a 4.5% concentration.
The TGA Examiners Final Decision 2021
Here you can download the section of the TGA document "Notice of final decisions to amend (or not amend) the current Poisons Standard" from October 2021 stating their decision to amend the scheduling of NumOcaine (lidocaine) from S4 to S5. 
Note: The lidocaine section begins on page 10, section 3.2.
The TGA Examiners Interim Decision 2021
You can download the section of the TGA document "Notice of interim decisions to amend (or not amend) the current Poisons Standard" from March 2021 stating the interim decision to amend the scheduling of NumOcaine (lidocaine) and presenting their evidence to support this decision. 
Note: The lidocaine section begins on page 24, section 3.2.
The Application to Reverse the TGA's Final Decision 2022
You can download the TGA document "Consultation: Proposed amendments to the Poisons Standard – ACCS, ACMS and joint ACCS/ACMS meetings, March 2022". This document details the reversal application, which proposes "that the existing Schedule 5 entry for lidocaine be amended to exclude injectable formulations for veterinary use in certain husbandry procedures." 
Note: The lidocaine section begins on page 32, section 3.4.
Thank you for taking time to help us improve lamb welfare by making NumOcaine more available across Australia.