Sheepvention 2019
Location: Hamilton VIC, Australia
Sheepvention 2019 was a first for the Numnuts team! We had a great time exploring the show – if you are into innovation, technology and sheep we doubt there is a better place in the world to come and find out the latest.
Felix & Robin (sporting his kilt) were run off their feet for the three day show, giving demos and answering questions from sheep producers and vets alike. They were delighted by the positive and proactive response Australian farmers were showing towards animal welfare.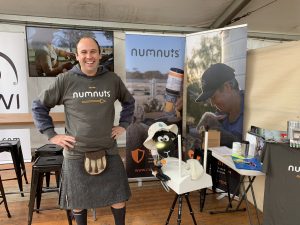 A huge thank you to AWI for letting us exhibit with them and to Andrew Whale and all the vets at Livestock Logic in Hamilton for their support. Thank you also to Lisa Virgona at Farm Assist Stock Handling for showing Numnuts at her stand and promoting the Numnuts device to her welfare-conscious customers – it's great to see Livestock Contractors promoting new best practices.
Check out our highlights from the show: