Question: "Does the Numnuts tool expand rings to the same size as traditional elastrator pliers?"
Short answer: Yes!
Those who have used it have found getting tails or big testicles through the opening has been equivalent to what they have been used to.
The opening shape of the Numnuts tool is different — the pins open into a triangle, rather than a rectangle — but the actual amount of space you have to work with is the same as with a standard tool. This is something we felt was important, resulting in a more ergonomic tool whilst maintaining the same functionality of the traditional ring tools.

Not only does the Numnuts device give the same amount of working space, but the triangular opening of the 3-pin design works well for both testis and tails, with the shape particularly increasing the ease of use with tails.
Compared to standard 4 pin ring tools, the Numnuts device requires a slightly different action to remove the device from the ring: hold the tool by the grey handle of the device and tilt the applicator down and back to release the ring in position. This movement may take the user a short while to get used to,  yet tests have shown that over repeated use this release action is more comfortable and creates less stress on the animal and user than the usual twist motion required for 4-pin tools.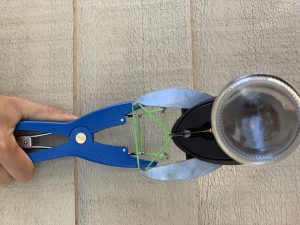 Numnuts triangle size overlaid against Leader band pliers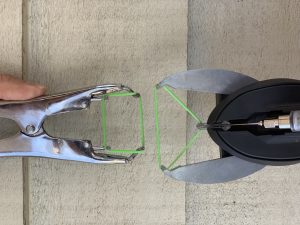 Comparing Numnuts tool to elastrator ring tool from Europe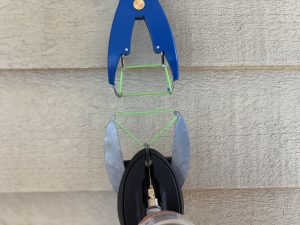 Comparing Numnuts tool expansion size side by side to Leader ring tool